---
5/3/09
New elections are now in progress ending 5/15/2009, see the forum City Hall.
---
4/19/09
Bug fixes released.

---
4/9/09
New version released.

A new version was released with some bug fixes for some bugs reported in the forum.
---
4/5/09
The Critter Cam is Re-activated!

Click Here For Current Info on the Live Critter Cam
We are trying to decide if we should clean out the old nest so we can get a better view of the new nest or if we should leave it alone or if we should wait. So we have started a poll to see what people think we should do.
See the forum for the poll.
---
8/17/08
New elections are now in progress ending 8/31/2008, see the forum City Hall.
---
7/5/08
The winners are in for the drawing contest.
Read the forum for more details.
---
6/27/08
New Eggs are in the Nest.
Read the forum for more details.
See the live CritterCam!
Click Here For Live Critter Cam
---
5/12/08
Announcing a Wildlife Art Drawing Contest
Entries are due June 30th, 2008.
The winner will win 1 month of advanced game.
Entries can be emailed to:

or posted in the forum.
---
4/15/08
Critter Cam Live Back Online!
There is a new nest and there are 5 eggs in the nest. There are parents sitting on the eggs in the nest. Soon the eggs will hatch out. Here it is live online 24 hours a day 7 days a week. These are Carolina Wrens.
Click Here For Live Critter Cam
Here is a painting of one by Wildlife Artists Joni Johnson-Godsy: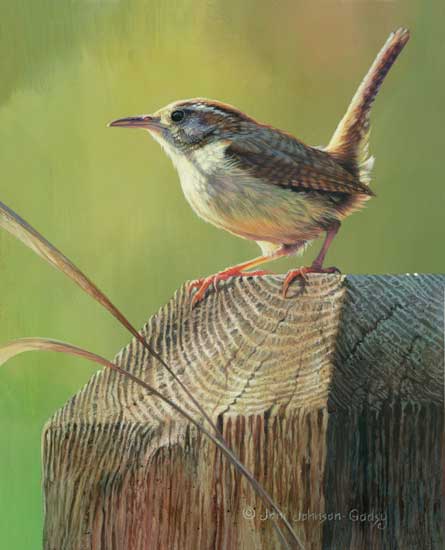 ---
8/2/07
Wildlife Photo Contest Winner is in
And the winner of the photo contest is ...
Wildheart !
Congratulations!
This was the winning photo: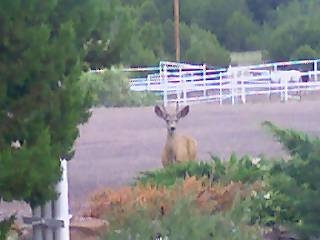 ---
7/16/07
Wildlife Photo Contest
Announcing a wildlife photo contest.
Submit a wildlife image and get a chance to win 1 month free advanced game. Any image of wildlife that you take yourself and submit will qualify. For example, if you want to take a picture with a cell phone camera then that would qualify for this. All entries will go into a pool for a drawing. The person drawn will get 1 month free advanced game.
Entries will have to be emailed to:

Submit your entries by August 1st, 2007.
---
4/27/07
Critter Cam Update
We now have birds, a nest and eggs and the eggs have just started hatching!
<Click here for the Critter Cam Web Page>
---
4/21/07
Critter Cam
Web Earth Online is sponsoring a live Critter Cam which was originally installed inside of a Blue Bird House and is currently installed in a House Wren nest and will allow users to view live and in real time a bird nest.
The Critter Cam blue bird house is built from used scrap barn wood and is powered by a solar panel which stores power in a battery. The Critter Cam runs 24 hours a day and has a small night light for night viewing.
<Click here for the Critter Cam Web Page>
---
2/19/07
Sound System Changes
The sound system was moved off of the Javasonics sound system permanently and back to the standard Java based sound. Now the sound control on the display controls sound settings and these changes will be permanent changes which are saved with your account settings. Originally there were bugs in the windows operating system, espcially with Windows 98 and ME that were the motivation for using the Javasonics sound system. We am not sure if those problems were ever fixed by Microsoft, but windows 2000 and XP with current service packs should be ok. If you do have Windows 98 or ME and have troubles please let us know. You can always turn off/ disable the sound by clicking on the control. Clicking on the sound control will toggle it on or off.
There were also a few minor changes made to the game play.
---
2/9/07
System Upgrades and Changes
More upgrades were made to the server software and hardware on all servers. There is now a new forum system that is available from the menus by clicking on the Forum button. This successful migration will allow for more future improvements and upgrades in the future.
---
1/28/07
New System Software
Upgrades were made to the web server software on all servers. All these upgrades bring them up to the most recent versions.. In addition some improved security measures were implemented.
---
6/01/06
New System Software
The game server is now running on new system software with a new database system. Menus have been updated and the game has been tweeked in a few places. These changes will allow for future upgrades to the game to be made.
---
7/26/04
World Restructure
The worlds will be re-organized on the worldview screen by 8/1/04.
---
7/21/03
Bison Hunts
We will have begin having organized Web Earth Online Bison Hunts on Sundays at 12 noon (Central Time). The hunts will be held in World 1. The goal of the hunt will be to form a wolf pack and attempt to take down a Bison. Initially the player pack will form up just south and west of the water fall, but still in view of the water fall . The first official hunt will be held on August 3rd. All are invited to participate.

Photo Contest
We will have a Web Earth Online animal photo contest.
You can post photo's here in the Photo section of the forum.
http://photos.groups.yahoo.com/group/webearthonline/lst
Please create your own album and put your photos there.
Submitted pictures need to be of animals.
If you want to use the Killdeer pictures as a guidline feel free.
The Killdeer pictures could have been better,
and it would have been nice to have pictures of the babies when they
fledged the nest.
If you have any information about the animals as I did with the
Killdeer please post it here in the forum.
1st prize will be one month of advanced game.
The contest will close at the end of September.
System Upgrades
There will be network and server upgrades on 7/23/03 which will cause some disruptions in service during the morning and afternoon. Network upgrades have been reschuled for 8/6/03.

==========================================================

7/09/03
Points
Bonus points are now given if an animal lives long enough for the age clock to reach midnight. Every 20 seconds that you can survive after the clock reaches midnight you get significant bonus points. Also remember that you can get bonus points for holding the #1 ranking, and bonus points for surviving during winter in the same way. Every twenty seconds that you hold the #1 ranking you get bonus points, and every 20 seconds that you survive during winter you get bonus points. Players should also be aware that they can still get points for babies even if they die. All you have to do is be in the game when the babies leave the nest to get your points. So by returning after your death you can still get credit for your babies.
Packs
Pack name reservations have been removed. So you can now join any pack that exists at any time. NPC's now form packs with names that are more simple. They won't user their number ID as part of their pack names. Players can take over and change a pack name by becoming #1 in a pack, and removing all animals from the pack, then forming a new pack and joining all the animals to that pack.
Animal Speeds
Some of the slower animals are now slightly faster.
Hawks and Roots
Roots now last a little longer. Hawk nests should be easier to maintain.
Bugs
Some changes have been made to reduce the items being lost from carriers.
Client Changes
Be sure to allow extra applet load time for the client changes that were put in place to support these changes.
==========================================================

6/12/03

Cat Attacks
Cats now have 2 new commands. The Crouch command can now be found by clicking on yourself on the right side of the control panel. Crouching performs 2 functions. The first function is to put your cat into a position of being able to strike with a "Pounce Attack". And the second is that cats will be nearly invisible outdoors while crouching. An animal's ability to perceive a crouching cat will depend on its age and skill level. Older cats with higher skill level will also be harder to see when crouching. "Pounce Attacks" do double damage of a normal fight attack. "Pounce Attacks" can only be done from the crouching position.
Take Commands
Parents can now take their own kids (assuming the parent is strong enough to lift the kid) without the kid trying to avoid being taken. Previously kids didn't like being picked up by their parents and would resist it. Now they allow it without a struggle.
Playing as Infants
Changes have been made to the option of playing as an infant. Players will no longer acquire or "take over" an existing baby, but a new one will be created for a player to play. So if a parent sees another baby show up in their nest, be sure and check to see who the mother is, because it might be one of yours if you have the option set to allow players to play as your infants.
Client Changes
Be sure to allow extra applet load time for the client changes that were put in place to support these changes.
==========================================================

6/4/03

Pack Attack
Canine Pack attacks are here! Canines are wolves and coyotes. As a canine you can form your own pack. And you can build a pack up, and then rally your pack to your side for your own pack attack where you get to select the targets that the pack will attack. Be sure and allow extra applet load time for the client changes that were put in place to support this.
Click for More info on Packs ...
Bug Fixes
There are some bug fixes now in place for the Elk and Bison.
==========================================================

5/16/03

New Worlds
We are starting to make game world improvements. Adjustments have been made to the animal starting age. Player will now have to play for a short while as an infant when acquiring a new animal. This acts as a penalty for allowing your animal to die, and will also slow down re-entering players who might want to re-attack someone repeatedly.
Flower weights have been lowered slightly so that Blue Birds can pick them up. A male Blue Bird could bring a flower to his mate. This is probably not common Blue Bird behavior, but the person playing your mate may appreciate it.
New Client
We have rev'ed back to the previous client version due to memory management problems on older Windows computers running windows 95, 98,or ME. Be sure and allow extra load time for the client change.
==========================================================

5/12/03

New Client
A more efficient client is now being used. Be sure and wait the extra time needed for the new applet to load. The first time your computer loads the new client will require more time. Please allow over 4 minutes for slower dial up modems. The new client should improve performance especially on slower machines and will allow for improvements in the future.


New Commerce Server
We are now running a new commerce server.


New Search Features
You will find a new search feature available which will help users search the online help documents and get results more quickly.


New World Structure
Worlds are now structured by play.

The Wild Play, Rougher Play world. This world is set aside for players who want to play in a wilder world. This world is for the survival of the fittest.

Group Worlds are worlds which can be reserved by a group like a school. Once reserved the group will be given an access code which only allows their group to use the reserved world.

We are looking for suggestions from players on themes that worlds might be based on.

New Purchasing Options
The online store now allows users to purchase new options like family plan,
and Group World Reservations.

==========================================================